Premium Charcoal BBQ Smoker Grill
3 Review(s)
4.3333333333333333333333333333
3
Premium Charcoal BBQ Smoker Grill
Very High Quality BBQ Smoker
Ventilated Charcoal Pan for Consistant Burning
Heavy Duty 0.9mm steel used
Free Cover, Hanging rack, Hooks
Order Within
to receive on
Tuesday
for UK Mainland Orders.
Sign up for future discounts and new products
One of the best quality BBQ Smokers available is our Vertical charcoal smoker, by Callow Retail. We have taken all of the design flaws form the binkmann range of smokers along with their good designs and created our own, which is a fantastic cost and will suit new comers to food smoking and the experienced alike. There are many benefits but the main ones are that the smoker is manufactured form 0.9mm steel - great for heat control and retention. The lid has vent control and temperature gauge. The base also is supplied with vent control along with a charcoal bowl that has ventilation - also important for maintaining consistent burning of the charcoal. 2 Grill racks are provided along with a hanging rack and hooks for hanging ribs, sausages or fish. This is made from Stainless steel.
There are many other features including:
- Temperature Probe holes at two cooking levels
- Door for access whilst smoking
- High Quality Stainless clips for securing the body together
- Full instructions for use and assembly
- Free cover included Provides at least 5-6 hours of cooking time Product dimensions are 14" in Diameter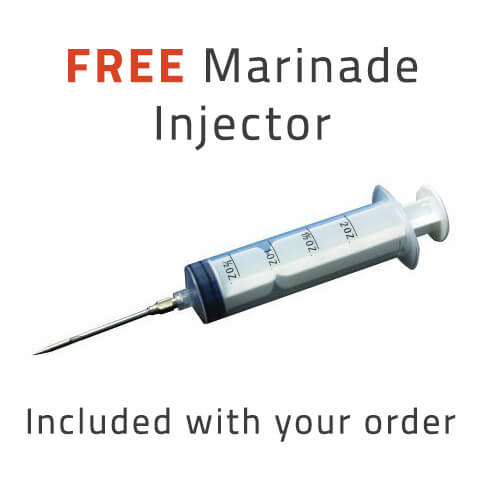 Good smoker at a reasonable price
21 March 2017

by:

Wade
I recently bought one to test and I was very pleasantly surprised with it. This is a well built smoker that will be good for people interested in starting to hot and cold smoke meat and fish. It is compact and so does not take up too much space in the garden and it comes complete with a weatherproof cover. The size will be about right for most families who want to try low-and-slow smoking pork joints, ribs, whole chickens and brisket and, in conjunction with a gas or charcoal grill BBQ, will allow you to produce a very good BBQ spread for the family. The temperature control on the smoker is very good and will enable you to slow roast whole joints of meat for 8+ hours on a single load of good quality briquettes. I would have given it 5 stars had it not been for the lid thermometer on my unit being somewhat inaccurate. This is easily overcome though.
Callow Smoker
04 March 2017

by:

Stacey Percival
Bought it for my Boyfriend for his birthday, he loves it have not yet tried it. He put it together today the only negative was that is does not come with instructions to put it together, so it was a little tricky. Can't wait to use it though. :)
BBQ Smoker
17 February 2017

by:

Carol
Brought this recently as an addition to our wood burning pizza oven. It was not bad at assembling, have only light the smoker to cure it. Weather been snowing, We used a BBQ chimney smoker to start the briquettes off. We have also brought a meat thermometer to check the cook products, one very helpful item would if been a cook book to accompany the smoker, otherwise very happy with our purchase.
You May Also Like